If you take a look to Tiny Little Pads, you will find amazing kids' spaces in which you can appreciate love and exclusivity. Tiny Little Pads tries to transform kids' spaces in dreams come true and, as we know, dreams are unique so its spaces too.
Jannicke, its founder and designer, was born in Rissa (Norway) and Interior design has always been her passion so, although she studied Children's Developmental Psychology (studying interior design was not possible in her hometown), worked on a cruise ship and travelled around the world, fate finally turned her into a successful interior designer who really knows how to catch her dreams. All her work and fights to get her goals are part of the brands' spirit. Do you still think that there are impossible things?
We are really excited to tell you more about this inspiring woman behind this amazing brand. Don't miss the interview!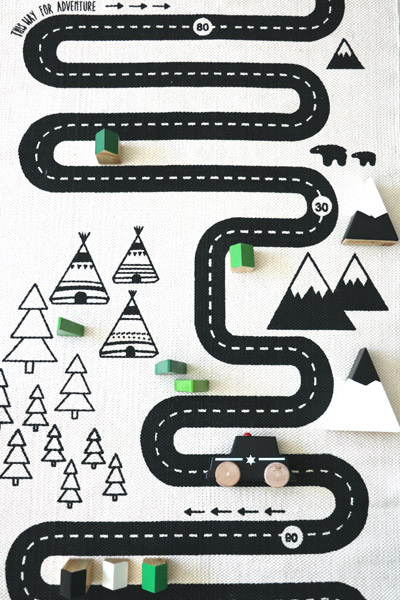 Contemporary Monochrome Play Area
What determined your passion for interior design? Tell us about the moment when you decided this is the way to go?
My interest for Interior Design has been with me since I was a little girl, but it kicked into high gear when I got to design my own Big Girl's room back in the day. It truly sparked something in me. My mom let me pick all the colours, fabrics and furniture myself. I was in heaven.
But it wasn't until I had completed a year studying Children's Developmental Psychology at University that I started perusing Interior Design as a Career. I packed up my stuff and moved 400 miles away from home and started my first year of a Bachelor Degree in Norway. A few years later I completed my Degree in the desert of Las Vegas, USA, after sailing the high seas working on the renowned luxury cruise ship "The Word" for a year and a half.
I landed my first Interior Design job with an Award-Winning Hospitality Design firm in Las Vegas. Ranked one of the top 100 Interior Giants in the US, I got to work with world famous casino properties in the US and abroad. When my husband and I expected our first Baby Girl, the seed for my own Children's Interior Design firm was planted when her nursery was completed. I was laying on the floor looking around at the nursery I had designed for her and the pieces all of a sudden fell into place. Interior Design for Children was my calling. And as the ONLY firm doing Interior Design exclusively for children in Las Vegas, I had found the perfect niche to tap into.
Scandinavian Retro Nursery & Playroom
Which is the style that defines you?
Tiny Little Pads is the perfect mix between the latest in design and vintage treasures that you only find by hunting high and low. It's fun, it's colourful, it's full of personality, a bit whimsical, yet always practical. But most importantly, a Tiny Little Pad will never look like the children's rooms next door.
What kind of thing should you consider before decorating a kids' room?
You should always design your children's rooms with growth and development in mind. That's what children are all about. When purchasing the main furniture pieces that you know will last a while, make sure they will work with different layouts in the room so they can grow with your children and their needs as they change.
Modern Rococo Nursery
Where do you find your inspiration from to create so many different rooms?
The inspiration for my designs comes from my everyday life. A typical day for me is filled with activities, work, play & fun and I pick up inspiration from things I see outdoors, the food I eat, the shops & restaurants I visit, the way my kids play, magazines, TV and of course social media. When I start a new design, Instagram, Pinterest and Houzz always get some extra attention. I then mix those ideas with things I see and experience in my private life.
You have also created an amazing playhouse. What a fun place to play and learn! How did you get that idea?
Growing up in Norway I never had a real playhouse. However one summer the kids in my neighbourhood decided it was time for a new Little Village. We pair up and got to work. We used leftover lumber, pallets and materials found around our parents and grandparents' barns and storage units. The houses were not fancy, but boy did we have fun. Memories I still treasure to this day.
So when our first daughter was born, I knew I wanted to give her a little world of her own. A playhouse is the perfect space for life-long memories to be made! We landed on this style of house because we wanted it to complement our house and make it into a Mini-Me House. And with a very handy husband and grandparents from Norway in town, we went all in. It took us quite some time to build it as it is fully insulated, wired for electrical and has a custom interior design. We completed this project before Tiny Little Pads was born, but we had so much fun along the way, that I wanted to include this as one of our specialities of my new firm so that I was given the opportunity to do this again.
 Farmhouse-Styled Playhouse
What about your future projects, do you have anything in mind?
Right now I'm working on a Little Boy's Nursery that I'm really excited about. It's a classic Tiny Little Pads space where new and modern is carefully mixed with old and vintage for a beautiful space that will grow with the little guy. To me, a kid's space is missing its soul if it does not have some family heirlooms or pieces that mean something to the family I'm designing for. This room will best be described as a modern take on a Ralph Lauren Interior where a modern monochrome backdrop is accessorized with a classic colour scheme of vintage navy blues, hunter greens and mustard yellow. I can't wait to see this one come together.
Don't miss her website! There, you will find lots of ideas and inspiration to become your little ones' dreams true!
+ info: Tiny Little Pads